PRIMAVERA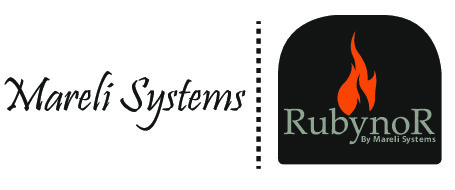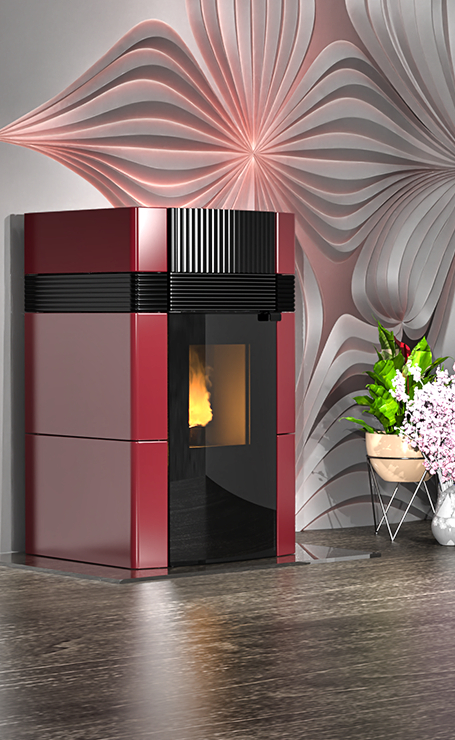 The PRIMAVERA series of Mareli Pellet Stoves are the perfect combination of style…
The PRIMAVERA series of Mareli Pellet Stoves are the perfect combination of style, design and quality. With a built-in intelligent electronic control, the use of the stove is very easy and with minimal maintenance. The presence of a precise thermostat, ensures perfect temperature control in your home. You also have the option of choosing from a wide range of colours that that best suits your interior design. Ignition is achieved through a ceramic heater that lights the pellets in a matter of seconds. Plus, the addition of sensors that control the combustion process, the water temperature as well as the exhaust gas flue, which is an additional guarantee for the security of the product at work.
The production of the PRIMAVERA series of Mareli Pellet Stoves meets all European standards and requirements relative to the environment. Thanks to the use of innovative technologies such as 5-speed fuel modulation the product achieves very high efficiency and low CO emissions released into the atmosphere. All products have a two-year full warranty with the option to extend it *.
Finally, we have implemented an auto tuning function for the stove. This sensor constantly reads the flow of air entering the combustion chamber and automatically adjusts the speed of the exhaust fan and of the auger so that each combustion power always has the optimal air flow required.
Whether you heat your apartment, house or office, you will always find a product to suit your needs and budget – quality is guaranteed and unmatched. Our team is fully available to advise you in any situation.
Every product is tested according to European quality standards.
Work time programming, weekly chrono
Regulation with air flow sensor.
Simple periodic maintenance
Safety pressure switch (optional)
Room Temperature Control
Every product is tested in the factory
Automatic combustion management
Presence of safeties for key components
Option for Factory reset of the product
Easy to use LED Display
Spacious ashtray compartment
Presence of separate room thermostat module (optional)
Connection outlet to the chimney 80Ø
Temperature resistant paint is used
Overheating safety
Manual cleaning for the turbulators
Automatic cleaning of the burning chamber
Automatic tuning of the combustion process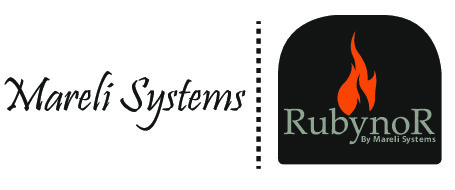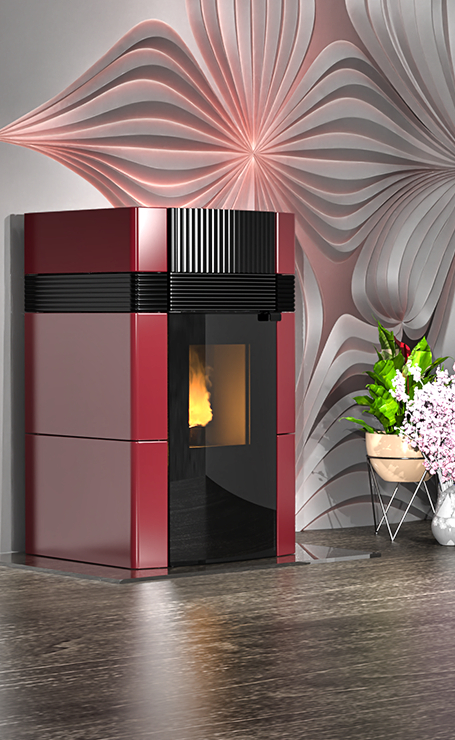 Features
filterable values
Additional information
| | |
| --- | --- |
| Brand | |
| Tipo di combustibile | |
| Potenza termica nominale (kW) | |
| Rendimento al max (%) | |
| Rendimento al min (%) | |
| Consumo orario max (kg/h) | |
| Volume riscaldabile | |
| Peso Netto | |
| Capacità totale serbatoio | |
| Diametro scarico fumi (cm) | |
| Larghezza (mm) | |
| Altezza (mm) | |
| Profondità (mm) | |
| Classe di efficienza energetica | |
| Certificazione Ambientale DM186 | |