DUAL THERM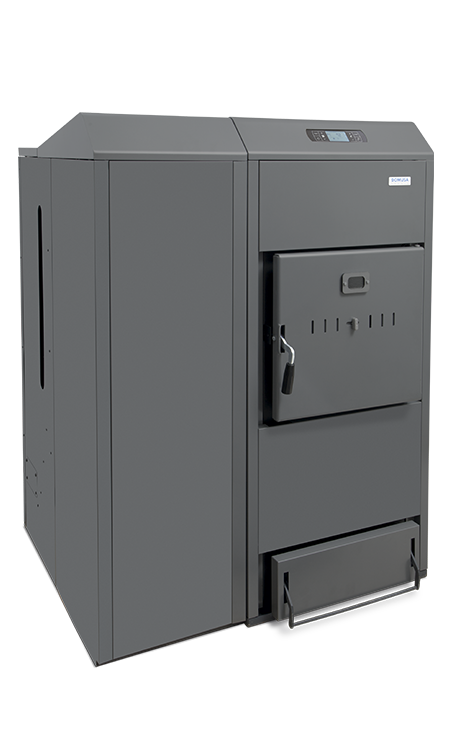 DOMUSA TEKNIK has developed a product with highly advanced technology that…
DOMUSA TEKNIK has developed a product with highly advanced technology that was awarded a Class-5 rating in its certification process (the highest possible, according to EN 303-5 European Standard) and a 4-star environmental certificate according to Italian Ministerial Decree 186. DOMUSA TEKNIK has been manufacturing boilers with the best quality-price ratio on the market since 1976.
SAVINGS
With the Dual Therm boiler, fuel consumption is reduced, recovering the investment in a shorter time due to the high efficiency of the boiler with yields up to 92%.
The electronic modulation of the Dual Therm boiler provides the necessary power at any time since the power of the boiler adapts to the installation needs.
GREAT AUTONOMY and EASE OF USE
Possibility of placing a container of 110 kg or 145 kg of pellets next to the boiler. In addition, the boiler has a large ash drawer.
Easy and intuitive display. Possibility of adding hydraulic kits to heat different zones. All managed from the boiler display.
Power of 25 and 33 Kw.
AUTOMATIC CLEANING SYSTEM
The cleaning of this boiler is completely automatic. It is supplied with a series of turbulators that block the passage of fumes in order to improve efficiency, and also clean the traces of ash in the passage of fumes.
The burner has an automatic ash cleaning system. The lower part of the burner combustion body is equipped with a cleaning system that periodically sends the ashes created during combustion to the ash pan. Cleaning is also carried out with the burner running, which improves the comfort of the system and reduces boiler consumption.
AUTOMATIC WOOD LIGHTING
The position of the pellet burner under the wood combustion chamber allows the wood to be ignited automatically. In the ignition process, the pellet is first ignited by means of a low consumption electric resistance; then the wood places in the load compartment lights up. In this way, the Dual Therm boiler allows automatic operation of the heating system and domestic hot water even when working with wood.
HIGH QUALITY AT A REASONABLE PRICE
Ultimately a high-tech, efficient and reliable boiler at a reasonable price with the intention of bringing biomass to as many customers as possible.