CIRCULAR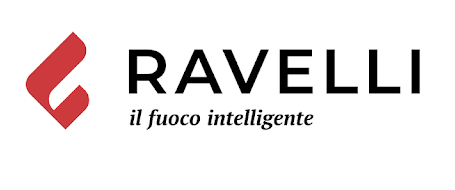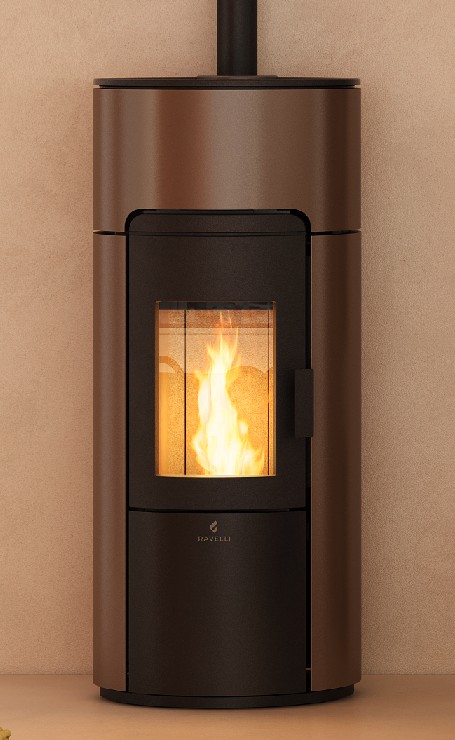 Among the products new for 2021 capable of combining high design and exclusive te…
Among the products new for 2021 capable of combining high design and exclusive technologies for a truly intelligent fire, Circular stands out for its perfectly cylindrical shape designed by the studio Whynot.
Circular by Ravelli combine aesthetics and usability, exploring new frontiers of the synergy between form and function, while never forgetting the centrality of the flame: core of energy and emotional heart of each product.
In addition to the iconic circular design, the model's distinctive details are the band above the opening door, visually breaking up the front lines, and the ring around the tube, which combines its aesthetic function as refined detail with function, allowing the option of installing of two different pipe diameters.
Equipped with forced ventilation system (AIR CONVECTION) that can be deactivated for moments of quieter heat that exploit heat distribution typical of natural convection, offering the option of customized heating, the Circular stove is built respecting the Ravelli Zero Philosophy and Zen Technology criteria.
Hassle-free and with all the comfort of silence, thanks to the presence of the exclusive microfusion self-cleaning brazier, patented by the company to ensure constant, automatic cleaning, and reducing and simplifying maintenance procedures, and the innovative Brushless gearmotor that manages the pellet load from the feed screw into the combustion chamber, with slow and continuous 24V rotation.
To top off the model's efficiency, there is the unclogging system to prevent jams in the feed screw control system and the upper smoke outlet with the possibility of coaxial and optional rear smoke outlet, for even easier installation, based on individual requirements.
Circular's contemporary design features cast iron top, door and heat exchangers – which accumulate heat by optimizing the exchange with the surroundings, and heating for long periods, even after switch off – grille with pellet cage and coated steel cladding available in white, black and bronze.
In addition to the standard handheld touch device and the small onboard backup display, Circular can be managed and monitored from anywhere – thanks to standard Wi-Fi that allows you to program remote ignition and switch off, set the optimal power from season to season and constantly check its running, creating a personalized heating schedule.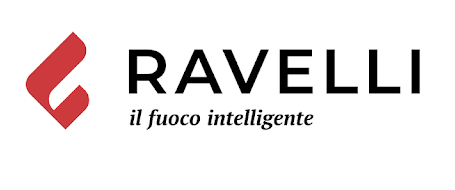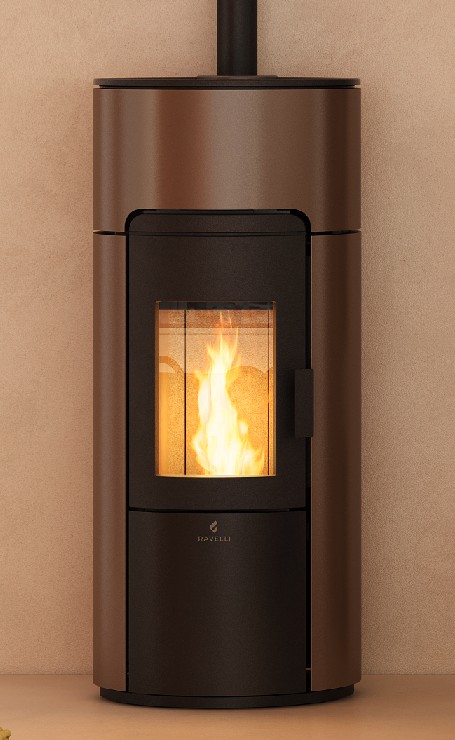 Features
filterable values
Additional information
| | |
| --- | --- |
| Brand | |
| Tipo di combustibile | |
| Potenza termica nominale (kW) | |
| Rendimento al max (%) | |
| Rendimento al min (%) | |
| Consumo orario minimo (kg/h) | |
| Consumo orario max (kg/h) | |
| Volume riscaldabile | |
| Peso Netto | |
| Capacità totale serbatoio | |
| Diametro scarico fumi (cm) | |
| Larghezza (mm) | |
| Altezza (mm) | |
| Profondità (mm) | |
| Classe di efficienza energetica | |
| Certificazione Ambientale DM186 | |