VIVIENNE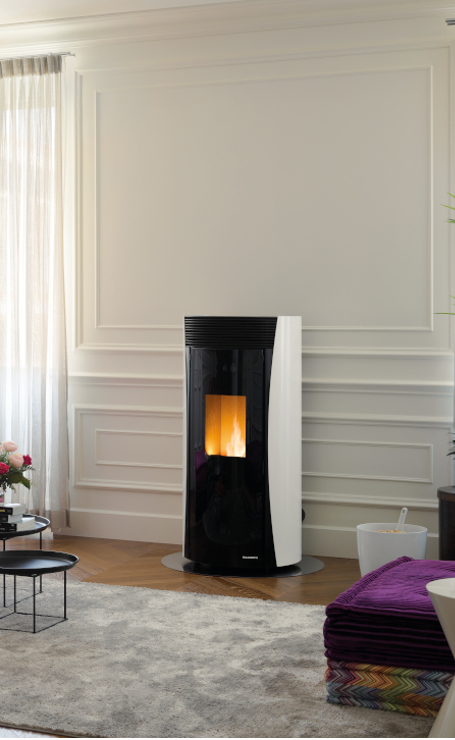 Elegant, airtight Ecofire® pellet stove with a round design and black glass door and…
Elegant, airtight Ecofire® pellet stove with a round design and black glass door and black polished steel front uprights. The round steel sides are available in various colors (black, mocha, white).
When switched off, the stove has a black glass door which, when switched on, gives a natural, wide and suggestive view of the fire.
It features the exclusive T3 technology, which consists of a total combustion system and a self-cleaning brazier. This important innovation, in addition to guaranteeing the automatic cleaning of the brazier, allows the pellets to be burned completely, thus optimizing combustion efficiency and drastically reducing the frequency of stove cleaning operations by the user since the pellets are burned completely, leaving only the few minerals in the brazier that can no longer burn and that are discharged from the brazier into the ash drawer with an automatic and motorized mechanism.
It is available in two powers (9 and 13 kW), also in the ductable versions AirPro2 and AirPro 3.
Ventilation can, however, be completely excluded to enjoy heat distribution by radiation and natural convection.
The high performance guarantees Vivienne the highest level of environmental performance (5 stars Italy).
Vivienne is also available in the version with coaxial upper flue outlet (Vivienne US). Vivienne US is available in two powers: 9 kW and 12 kW.
Vivienne can be equipped with several optional extras such as the Connection Box, which allows it to be controlled by smartphone or with voice commands, and the My Cli-Mate device that transmits to the stove the temperature in which it is positioned, so as to better manage the spread of heat. The stove is also equipped with a pellet reserve sensor.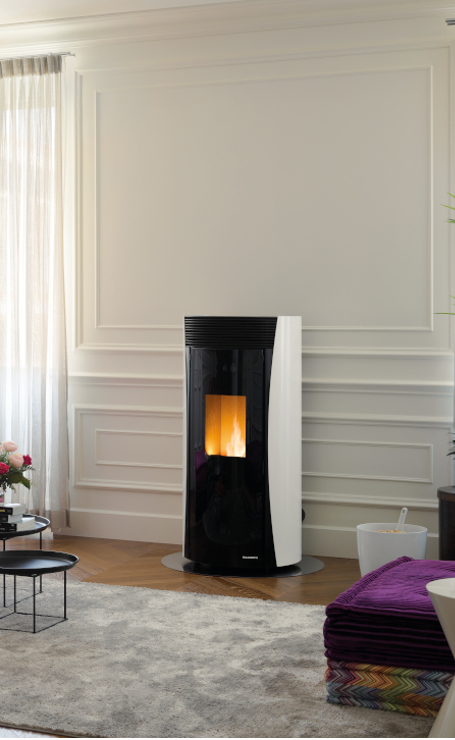 Features
filterable values
Additional information
| | |
| --- | --- |
| Brand | |
| Tipo di combustibile | |
| Potenza termica nominale (kW) | |
| Rendimento al max (%) | |
| Consumo orario minimo (kg/h) | |
| Consumo orario max (kg/h) | |
| Peso Netto | |
| Diametro scarico fumi (cm) | |
| Larghezza (mm) | |
| Altezza (mm) | |
| Profondità (mm) | |
| Classe di efficienza energetica | |